There is a nice backdrop-is that a ski slope?
I'm actually at Palisades Tahoe-formally known as Squaw Valley.  My husband puts on an annual trail running race here so I am helping him.
Are you originally from Lake Tahoe?
Yes! I was born and raised here on the west shore. My dad actually worked for Solomon Ski Racing and I was named after Christin Cooper who was a famous ski racer.  I would have been very in if I had chosen to be a ski racer-but I saw a few too many people tumble down an entire downhill course.
So this wasn't a Lindsey Vonn moment for you?
I was basically in skis the moment I stood up and was good at it but no.  One of the things I used to watch as a kid was Fred Astaire movies and I was ready to be swept up in that.  I was going to grow up and marry him.
How did you get into ballet and dance?
Well, it was when PBS used to air a lot of the Dance In America programs.  So it was Mikhail Baryshnikov's Nutcracker that I saw first.
Then there was this little dance class that the local park had brought in and I wanted to keep doing it more and more.  At that point there were a few teachers around, but not really in the way with how I was seriously I was taking it.  Starting at 8 years old my parents drove me to Reno which was an hour each way.  When two days a week quickly became seven.  I am an only child and gas prices were cheaper, so it was somewhat doable for them.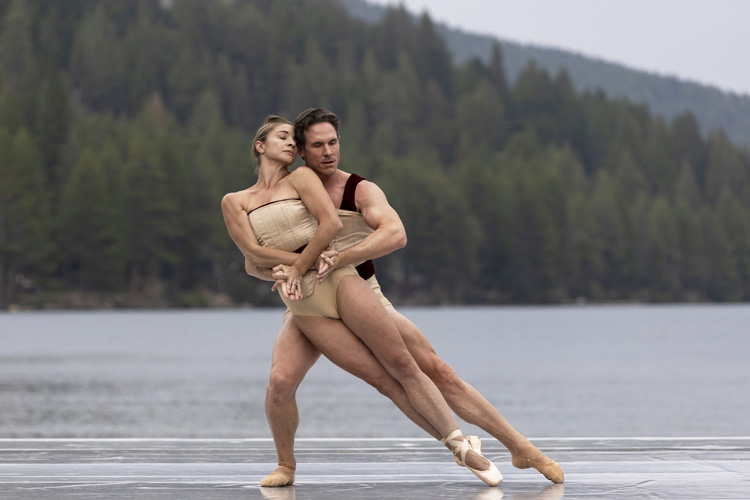 At the time there was a company called Nevada Festival Ballet that was started by Maggie Banks who had been in ABT with Marjorie Tallchief. She had left the ballet world to come to Hollywood where she was Jerry Robbin's assistant on Westside Story.  Somehow she landed in Reno and had a really good pre-professional school and a dance company where we would all be the core and they would bring in the principals for performances.  When we would be the core, she paid us and that was really cool.  And by the age of 12, I was a freelancer. I did my first Nutcracker I did with her.
This experience really instilled that this was a job and you show up for it. You had to be at all of your rehearsals. You sign a contract to get your check.  It was not an option to miss performances. When I look back at it now it really taught us being an artist was just as important as any other after-school job. And from this, I started going to New York every summer and it kind of grew from there.
When you talk about New York every summer-did you have time to live there for an extended period?
First I studied at the Joffrey Ballet School and then the American Ballet Theatre-this all started in 1996.  So I'd spend all summer in New York and of course got bit by the bug which is a cliched story-but there it is...the beginnings of a little kid from a small town in the mountains and it was magical.  It was my dream to go there.
Then out of high school, I did one season with the Oakland Ballet. That was a very short contract-from September to December.  Many who had taken that contract were New York-based freelancers.  This wasn't the best gig-but I wanted to be in New York.  A lot of dancers encouraged me to go because there was this scene where you could work with a lot of different choreographers and different groups.
I don't know if it was my upbringing but the huge dance company thing didn't really stick with me.  So I liked working one on one with choreographers and smaller groups. And by the time I finally moved to New York, I had already gotten my feet in the water there.
At that point, Miro Maguire was starting what became the New Chamber Ballet and I was one of his founding members. Obviously performing to live music(piano and violin) was a huge thing and doing our performances as City Center in really intimate settings was a really cool aspect of all that.
How did your experience in New York lead you to start the Lake Tahoe Dance Collective and the Lake Tahoe Dance Festival?
While I was performing with Miro in New York we were invited to Jacob's Pillow the inside-out stage. You know I love Jacob's Pillow, but it's hot and it's buggy and it's muggy.  And I said, gosh-I come from a beautiful place that doesn't have anything like this and that was an eye opener. I had already done the starving artist thing and started to think about what my role would be moving forward. I didn't want to be 50-something schlepping to class for rehearsals.
Later I contacted a woman who had started a small school here and we wrote a grant for 500 bucks. Miro and I, along with my partner at the time Damien Johnson started a week-long workshop for the kids that she was teaching.  We did a lecture demonstration in a nearby gym. Then we met with a few entities that had previously tried to bring dance to Lake Tahoe. 
It was kind of like the chicken and egg-no one had done anything here like a dance festival because no one had done anything here like that. There was no infrastructure. There was no theater already in place to perform. It's not like Vail where they have Gerald R. Ford Amphitheater and you can just roll up and turn everything on.  I had a lot of people say that this wouldn't work because it didn't with San Francisco Balle and they wanted to know what I would have done differently.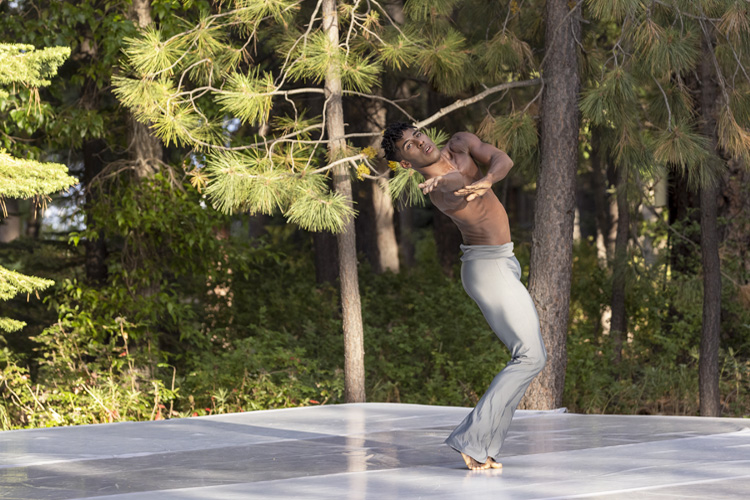 So I followed Miro's model and started small.  I first made the decision to move back to Lake Tahoe and teach following the model I experienced as a student.  We featured a couple of shows outside before we officially called it a festival.  We started this by inviting friends from different companies with people's work who we respected. To this day by doing it this way, we get to invite the people we love and the people who we really want to work with and support. We're still here growing and strangely enough, it's been 10 years!
Can you walk me through what it is like to attend the festival?
As of right now, the program is the same every night. There is the opening night Gala with food, wine and a silent auction.  This year we will have the Washshoe Indian Tribe come do their ceremonial round dance. The site where the dance festival takes place is a very sacred place to the Washshoe people-it is the only place in Lake Tahoe where the water flows out where there is one outlet and that is right where the sacred grounds are located.  It's a celebratory dance but it's also audience participatory to the degree people want to be involved.
The second night takes place at Tahoe City where people bring picnic blankets and chairs to see the dancers. Then we move to a second location in Truckee on Donner Lake. Our goal has always been to have a program that is equally exciting for a dance connoisseur and for someone who has never seen a performance before. We have a lot of people attending who have only seen dance through the eyes of what we've presented. We've tried to keep this experience accessible and affordable. It's not designed for what you may find when booking a hotel for three nights in downtown San Francisco then buying a $300 ticket to see the ballet.
We always have some classical ballet and contemporary modern dance. We also feature works from the Eric Hawkins Dance Company and Kristina Berger via the Lester Horton dance collection. We like to show elements of those little historic gems which are a foundation for what came after.
This year we are still in a challenging environment coming out of the pandemic.  While performances may be going on one of the biggest things we've been facing is dancers being injured. So many of us, especially the older generation, when you take that much time off due to the restrictions you go back so excited to be out on stage then blam (you get hurt).  We had a few program changes because of people being out. This universe is still providing us a few curve balls-but we are going to get through it!