How did you get involved with the dance community in Toronto?
I started taking dance lessons from the age of about 3 or 4.  Focusing then on mostly ballet, jazz and tap.  Once a bit older-past high school at McMaster University I started exploring hip hop.  That was right around when contemporary dance was becoming a popular term.  
After university I moved to Toronto in 2011 and started exploring the dance scene and taking classes.  Starting out I-kind of tip toed in while working as a waitress, just training and networking-to build on connections made at university.  At that time I was focusing on the street dance scene-taking more commercial styles, hip hop and street jazz-moving away from contemporary for a while-then coming back to it a few years later.  
Since 2014-my focus has been on contemporary dance styles-in the realm that fuses two genres together-floor work that combines break dancing methods.  I do a lot of fusion style dance; contemporary and hip hop which has led me to teaching this at the adult/professional levels.  
I do a lot of teaching-it's my main occupation.  I also perform, choreograph and freelance-while working at City Dance Corps.  This is where I teach almost all of my adult dance classes, along with fitness/ballet boot camp and contemporary.  City Dance Corp is a really great environment-in particular as an adult beginner studio.  This keeps it easier for me to maintain a lot of classes.  In particular, given teaching professional dance classes every week is a lot of work.  It is a better balance for me teaching beginners-while pursuing more performance jobs and working on my other artistic endeavors.  Now, I can teach at the advance level-more of when I want to.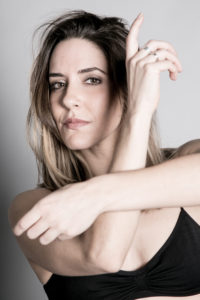 Are your youth programs a part of the Toronto public school system?
I have taught in the public school system a bit, a particular school might bring me in for the day as part of an elective or whatever.  But mostly, when I'm with the youth it's an evening program or throughout the summer when people will hire me as a dance instructor and I go travel around the country teaching.  These programs are not through the public school system but extracurricular through private dance schools that exist.
How does the opportunity come about for you to travel and teach dance?
At this point-it's word of mouth and referrals.  When I was starting-I remember sitting in my basement 2011/2012-hitting the pavement in email form-reaching out to people explaining I'm a teacher for hire and basically would apply for jobs.  I did that heavily for about a year-mainly because I was just starting and to get my name out there.  Now I've built a solid reputation for myself-in particular here in Ontario and can get commissioned for work in places like Alberta, Newfoundland, Saskatchewan.  
Since traveling to teach-I've built a portfolio-so when I'm going on assignment I'll reach out to other studios to set-up drop ins while on location-like Vancouver for example.  So for work or even vacation many times-studios will allow me to teach on their local schedule.
Can you speak a bit more on the commitment you need for teaching advance level class vs. beginner?
When I'm teaching advance class-I label them as Advanced/Pro.  I use Instagram a lot to give examples beforehand-with real footage of what my classes look like.  What the movement looks like so people can latch on and see it looks interesting and want to try it out.  Since I've been teaching at this level over the years-people who have found me can also follow me on social media.  
But the real difference is the level of training required.  The advance level class will move a lot quicker-and cover a lot more than what a beginner class-because the high level dancers are more adept at picking up sequences quicker, know their bodies, have more flexibility, coordination and strength-than a beginner.
For the people who are really into dance do they have the same motivation for taking class i.e. as workout, to destress, or learn creative techniques?
The adult beginners tend to take class as a form of recreation-like going to a kick boxing, zumba or pilates class.  Dance has really blown up over the last 10 years or also as a fitness activity.  People want to do something different for fitness to get their workout a different way-not just run on a treadmill.
I don't know why it took so long to happen-but I think the popularity of dance on tv has helped.  I love my beginner classes-I love seeing students develop.  With beginners it's not so much helping them with fitness-but it's helping them with confidence to put themselves out there and move around in a way they might feel at first really silly.  
Beginners might be doing it right or they might be doing it completely wrong-but either way in their head they feel ridiculous-being on display and making a fool of themselves.  That's something I talk about in my classes-how even I have felt the same way and you just have to get over it and just laugh at yourself and not take it so serious.  
In terms of your diet-are there any foods you like to eat that help with performance?
I am definitely conscious of what I eat-but don't necessarily preach that-unless people ask me.  It is something a lot of people are missing in their lives-people just don't understand the importance of a good diet.
I have a degree in Kinesiology and nutrition was part of the courses work-and a big part of my education.  I really don't adhere to any fad diets or strictly follow one.  I'm lucky to not have any food allergies at this point-so my biggest thing is balance and moderation.  One of my biggest vices is I like sugar-chocolate and ice cream are my thing-so I try to monitor myself on these.  I'll put sugar in my coffee-not denying myself-so instead of 3 packets I'll put just a little.  Even with coffee, on like my third cup-I'll ask did you really need that…?  
A lot of time-you get caught up in the day-to-day going through the motions (with eating).  I don't want to get to the point where I'm obsessed about eating-I think that is unhealthy.  At the same time-I'm always being mindful of what I'm putting in my body.
I won't deny myself red meat-but won't allow myself to eat it every day.  And because I'm literally dancing nearly every day-I don't have to worry about calorie intake.  If I wasn't dancing I'd have to be much more conscious of what I eat.  I eat a lot and a decent amount if I'm hungry.  I won't make myself starve-because I know I'll be dancing the next day-plus I run, do yoga and pilates.  
So luckily, since I have so much movement in my life-that's how it is for me, not being so restrictive eating.  My food philosophy won't work for everyone-it's based on my lifestyle.
For people visiting Toronto-is there a particular area where you find the dance community?
It's definitely shifted over the years.  I'll go out and see shows-I like to watch.  I don't go out to the clubs as much as I used to.  I'd like to go out-without the drinking-and check out the different styles.  I do like the house style and footwork.  We don't do a lot of that in studio per se-but I have studied house a lot with people who are house heads. 
But even still-I mostly do this in a studio setting.  I'm trying to explore a bit more-the out of studio social dancing.  Growing up dancing in a studio-in a ballet studio-street dance is not the world I was brought up in.  It's a world I've been delving into-have done a couple of battles-which are super scary to me as a whole different way of being on display-but I like the challenge of it.
There is a dance community in Toronto-it's like a small community but a big community at the same time.  There's a huge house scene, huge hip hop scene and a huge salsa scene.  There's a bit of a crump dance scene and a bit of a funk dance scene, with locking and waacking.  Of all the street dance forms-hip hop is the strongest.
Is there a discipline or technique that can carry a dancer over from studio dance to street dance?
Absolutely, I think for the street dance style-a lot of people have to dig a lot deeper to find a groove or find a party dance.  Ballet in comparison is so stiff, so linear and tense.  For a lot of people that is a big gap to bridge into street dance.  
Vice versa with hip hop.  As soon as you put tight clothes on and ballet slippers-you're going to find yourself in a whole different world.  You definitely can not take 10 years of ballet then jump into hip hop and nail it.  Anyone who can do that-I'd like to meet them.  To get the technique and style-will not translate right away, you'd have to put about equal time in both.
And lastly, can you speak about the production you staged last year called 33/33?
I was having a craving to do another production and I kept coming back to this idea about numerology and got accepted in a residency behind that concept.  After about 4months of working on it with the dancers-we pulled it together.  I love to choreograph, but also have in the back of my head-not being able to dance/perform forever.  So right now, I do choreographed productions to stay in the practice of it, but not full-time because I still have the urge to perform myself.
I did enjoy the production 33/33.  Having the experience producing and directing a show; being in the theater working with lights, working with technician's, and working on promotions.  I've developed so many skills just doing my own thing-learning by doing-it gives me a lot to look forward to in the future as my career as a dance evolves.