With you in Amsterdam and into Afro dance how did you become who you are now?
To go back to my education-I'm at the Masters level in HR.  I landed in Amsterdam because of an internship at Nike with one of their European headquarters based here.  I really, really liked it there and stayed with them for three years in human resources.  And as a first work experience after my studies, I was like WOW-I really hit that quite nice and it was great for my resume.
While at Nike, I moved to digital marketing-taking care of the women's category working on different projects many of which were dance-related, and from that things started to evolve in different directions.  At one point during my last year with Nike in 2018, I literally started traveling all around to just dance.  I took so many different classes here in Amsterdam and all over Europe-where I had the opportunity to learn Afro dance.
During this time I had one of my teachers give me an opportunity to substitute for her in a class and at first, I told her I-didn't want to do it.  Because at that time I had never thought about actually being a teacher.
So you were just doing this out of your enthusiasm for dance?
Exactly, I love dancing.  It's been like 16 years that I have been dancing-I've done Hip Hop, House, and Dancehall.  Afro style was like the big hit-where I felt like a kid again and I got obsessed with it, like meeting as many people as possible taking as many classes as possible, and then when my teacher gave me the opportunity (to sub) I was like…ok let's go and I'll see what I can do.
The people attending that class loved it and the school gave me an opportunity to teach my own class at the end of the year.  It kind of coincided with me wanting to leave corporate because I don't like authority, there are a lot (of office) politics and other stuff I didn't enjoy. 
I was around 26 or 27 when many young people around me on the job were already talking about burnout.  And I was like…what the fuck is burnout?  At that age and I was like what the fuck is burnout-with people around me like this.  Then I thought, is this really what I want to be doing (working in corporate)-even knowing was a great opportunity.  But I was more focused on how can I better contribute to the world and I loved dancing way too much (to stay in that environment).  And after that, I was like…ok, I out!  Let me go and teach.  So this is how I started.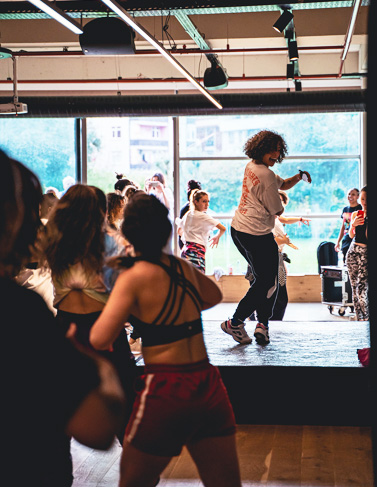 It has been a beautiful journey.  This is like the 3rd year now.  2022 marks the third year of me going full out with my dancing and teaching.  I realized also during the Covid-19 pandemic the journey was very interesting.   At first, it was about just spreading the love I had with all the Afro dances I was practicing.  Then it became something more, it became about, actually making an emotional connection around this dance culture and making sure we were having fun. It was really about these elements where we have this connection with people.  
It got even deeper, last year and the year before. It came down to who we are as people-what we stand for you know.  Dance for me last year was huge therapy.  I don't know if this coincided with me turning 30 with a lot of different challenges and life situations-but dance helped me get down to who I am, what I stand for and what my values are.  And so I thought, maybe my thing is dancing and since dancing helps me do that(connect to my values) maybe there are other people who feel the same way and we all can use dancing as therapy-like how people use writing as a therapy.
Now that my dance classes are evolving in this direction, where it is more about a lot of inner work, it has become a safe space for people to connect there and for people to have deeper conversations which are translated through Afro dance.  The scope of the way I dance and interpret myself is really different than what it used to be and I'm riding this wave right now!
How did the term Afrobeat come to define the style of dance you do?
I don't like calling it Afrobeat. To me this is really confusing. It's not doing justice to the music from Fela Kuti-which is Afrobeat. I always have a hard time when I see Afrobeat classes called that. You know, my parents are from North Africa and because of this I don't feel entitled to anything. So for me, it's an honor to have access to that culture. But it's also my duty to study twice as hard as anybody coming from Africa-because this is not only my culture. I'm trying to do my best with my students when having conversations, to also exchange new ideas because I am still learning and don't have the answers to everything. But when it comes to the term Afrobeat-I call my classes Afrofusion. I use this term because it is a mix of different Afro dance styles.
I love the Azonto (Ghana), Naija beats (Nigeria, thought I'd say Afrobeats), Amapiano (South Africa), Afrohouse (Angola), Coupé Décalé (Ivory Coast), and N'Dombolo (Congo) dance styles. So whenever I hold a class, I am sure to point out which style of dance we will be learning that day along with the style of music and which part of Africa this originated-of course to the extent of what I have learned and what I am still learning.