Where are you now? 
I'm close to Nice, Cote D'Azur French Riviera in Villefranche-sur-Mer.  It's a small village on the east side of Nice towards Monte Carlo.
Are you from Villefranche-sur-Mer?
Yes, exactly.  I was born here in Nice and I have lived in Villefranche-sur-Mer for 30 years.  This is my place-I love so much.
How did you get started in tourism from the very beginning? 
I started in Villefranche-sur-Mer at 22 years old at the tourist office at the reception desk and then in the promotions department.  I moved up levels during my career and ended my time there as Manager of the tourist office after 23 years of service.   From this experience, I have developed a big network in tourism.
Three years ago, just before the pandemic I left the tourist office to start my own company offering packaged tours.  I wanted to show my place-Villefranche-sur-Mer, I wanted to show the Cote D'Azur off the beaten tracks.  Many people know the Cote D'Azur-French Riviera but always in the same way.   I wanted them to know something different because there are so many interesting things to see.  For sure there is the seaside, which is very nice, but there is also the countryside, which is so awesome.  That's why I offer the usual tours if you want to see Nice, Cannes or Monte Carlo.  But if you want to see something different-with different activities I offer tours like "Picnic Chic" in a very unusual site up the mountains all alone-where propose some local foods with champagne or wine, these are the things I like to do with my clients.
Let's talk about the 'Picnic Chic'.  How would that experience evolve?
I offer two tours with Picnic Chic.  For example, the first one is here in Villefranche-sur-Mer, which includes a walking tour of the area with so many interesting things to see.  I have with me a small fridge where I prepare everything in advance-where I go to the delicatessen to buy some cold meats and cheese and local wine.  Then just after the walking tour I set up everything with all the treats on a table.  Then we have the picnic. 
But for example when we go to the countryside, I stay with my clients all day long.  We ride in my car-it's a Volvo SUV.  I bring my fridge with everything that we need for that.  
If the clients want, we can go shopping before and buy the items together then do the picnic.  On the countryside, after the guided walking tour of the countryside village-we will go to see an olive oil producer.  Then this family shows them how they make olive oil and the clients leave with gifts like oil olive pasta.  We can also go see a cheese producer on this type of curated tour.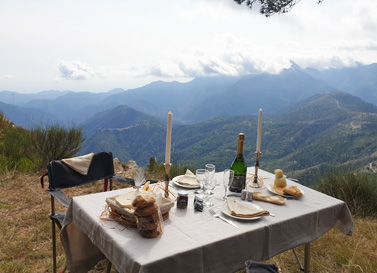 Are all the ingredients for the Picnic tour sourced locally?
Only local ingredients are included, yes.
And when you visit a local producer does this make the tour longer?                           
No it doesn't make it longer.  For the full day tour this is approximately from 9-5pm.  This is just a part of their vacation-so we can go and come as they please.  I explain everything to my clients first and they tell me what they want to do.  With the olive oil producer it is included in my tour and not too long.
Can you go through a typical menu?
Along with an Apéritif, we may have some with local olives.  Then we will have some Pissaladière or onion pie.  Then Socca Chips, which is like a big pancake made with chickpea flavor, oil, salt and pepper.  I will prepare a plate with assorted cold meats and cheese.  I will also offer fried vegetables, bread and Italian wine.  And for dessert we will have homemade tiramisu-made by myself.
Where did you learn to prepare this menu and the tiramisu?
My husband has a restaurant here in Villefranche-sur-Mer.  This is why I know of so many providers and products-this is thanks to him.  His restaurant is called La Baleine Joyeuse, which means happy whale.
Does his restaurant specialize in seafood?
Yes, it specializes in fresh seafood.  It's really local and people know this place because it is only a terrace on the seaside.  It is really nice and not so expensive-for the price it is quite fair.  It has been in existence since 2000 and he has been working there for 22 years with his brother.
What is the other gastronomy tour you offer?
The second program I offer is the cooking Niçoise class-it is held in the old city of Nice in the old monuments near the parliament.  During the morning we have the cooking class where we prepare dishes from two recipes like the Socca or Pissaladière for example.  Then we eat what we have made with the Chef.  In the afternoon we will do a walking tour of the old city or whatever comes to mind.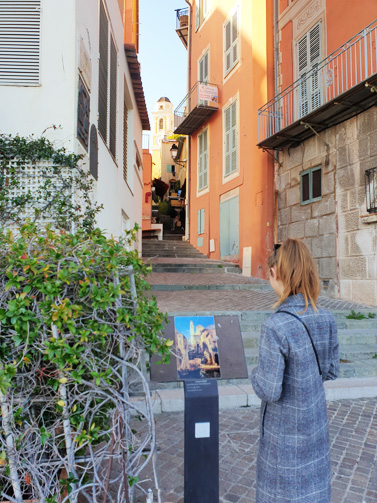 When people participate in the cooking class are they given a menu in advance-how does that work?  Do they get to actually measure the ingredients or just watch the Chef?
No, you actually do everything-preparing the recipes along with guidance from the Chef.  This tour can also be set up where we can go do the shopping together for all the ingredients before class, and then do the preparation and cooking with the Chef on location.  This experience will last approximately three or four hours from 9-12, then at 12, we eat in a dining room en place with everybody-what we have learned to cook that day.