So you're out on the East Coast right now correct?
I'm on the East Coast actually in Cincinnati right now. My company is having a debut downtown at the Aronoff Center through the Mutual Dance Theatre here.
The Mutual Dance Theatre is the presenting organization that actually has it's own space as well outside of city center. The presenter JEANNE MAM-LUFT-contacted me about two years ago to come out a make new work at her company-so this week I'm actually in residence. My company(Sidra Bell Dance New York) will fly in today for a performance of two nights of evening-length work that features repertory from the company's canon of works, Friday and Saturday night. So it's a residency week-then we have this culminating presentation of my six dancers.
I also am doing educational outreach while here working with The School for Creative and Performing Arts(SCPAC 4-12) and offering a community class on Saturday. So it's been a pretty full week.
Working with kids has to be engaging for both you and them-is this like a class or workshop where they see you perform, what's involved with that?
It's really wonderful.  I went to the school Monday morning and it's located in a beautiful building dedicated to the arts where they have a full dance program.  Basically, I worked with the 6th and 7th graders-introducing them to experimental contemporary dance themes.
Doing research I discovered your background is quite complex in terms of education and achievement.  Where did this start for you?
My parents were educators. They met at the New York College of Music in the '60s. Their relationship started first as collaborators where they worked together on different projects. My dad had a base in Jazz piano and my mom had a base in classical piano and gospel.  They were both New Yorkers and started to collaborate on educational work across the city with a youth group called Manhattan Borough-wide Chorus where they taught and also had a few jazz groups as producers and educators.
So when I was born, I was already in this creative environment.  Growing up I was in a lot of studio sessions-where my dad was involved in early rap productions with Dougie Fresh and the Get Fresh Crew.  All of those synthesized sounds on their early hits were my dad's contribution-as he managed that group. So I was around a lot of different forms of music.  My mom danced and as young musician and took classes at the Clark Center with a lot of people involved with the Alvin Ailey organization.  So I was born into this mosaic of art-making.  And my siblings were also into the arts whether it was music or film.  My sister currently works at Lincoln Center in theater-so there was always this really vibrant community for me that I was born into.
My parents would take me everywhere.  I would go with them to studio sessions and I got to perform in secular choirs where we would perform all over New York in different festivals.  I also did commercials.  Then my dad worked with U2 on a version of 'I Still Haven't Found What I'm Looking For'.  It was like this perfect storm of things growing up and then there were also the art educators in the public school system, so I was always around children, art-making and other artists in and around where we lived.  My dad's studio was actually in our living rooms so I could hear music coming from my walls.
When I was about 7 1/2 years old-my mom saw that dance was a very important expression for me, just the way I was moving through the house as a child.  I would make these forms and create things with my body and she decided to enroll me in the Dance Theatre of Harlem(DTH) on Saturday mornings.  My parents also toured for Jesus Christ Superstar with my dad as the director.  As a child, I just fell in love with the language of dance. With the DTH I was moved from just Saturday mornings to their weekday program which was more professional.  At that point, I was doing 3-4 hours of dance every night. 
Then at around the age of 14, my mom took me for an audition with Alvin Ailey Fellowship Program.  I got accepted and this became a great time to expand my knowledge base for modern dance while taking a lot of ballet.  So my parents gave me the best of everything and many opportunities to express myself-within their means. I was also able to study at the Bank Street School which was a time for knowledge building through collaboration.  So there was this large jungle or playground or garden of ideas that my parents exposed me to along with great education.
I went to the Spence School-the school that Carrie Washington and Gwyneth Paltrow went to. This school produced a lot of amazing women and they will be honoring me this year as well.  Then on to Yale.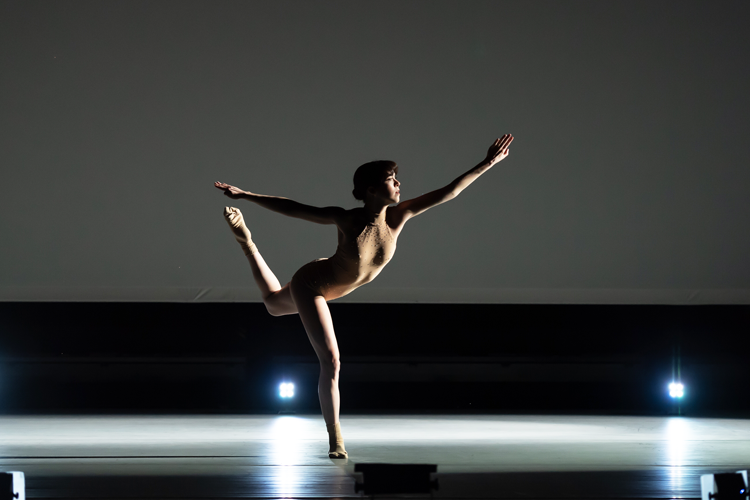 Being in New York does offer quite a community for the creatively inclined. The only other place that comes to mind is maybe London...maybe?
Berlin is another place.  I haven't spent a lot of time there but I have a dancer in my company from Berlin. I've been to Germany a few times, performing at festivals.  So this is another city that offers a supportive dance community.
When I think of New York, especially in the 80s/90s-more so than the now-it was really open to experimentation. You know now, with how the economy has shifted-a lot of artists are pushed to the perimeters a little bit more.  As opposed to when I was growing up-things were a lot more centralized.  Hopefully, as things ebb and flow it will go back to when everything was at our fingertips, when it was easier to live in New York as an artist.
It's been an interesting shift for me, from being a dancer studying dance to then starting my own company and learning how to sustain an organization.  It's just a different proposal now in New York (compared to when we started).  It's been interesting because you learn to build your skillset around the changing economy and ecology of the arts. 
It's been a journey of 20 years making works in New York, beginning with our first show as a dance company and bourgeoning non-profit taking place December 2001-just after graduating from Yale University.  So yes, we are in our 20th year of celebration!
Hopefully, there will be 20 more years of us operating as a non-profit not only supporting my work but the work of other artists in our program. 
The vision in 2001, the year we were founded, was to have equal parts performance creation and inter-disciplinary education.  We started as a troupe at this community center in Harlem-part extension of the Kennedy Center-teaching young women on Saturdays in exchange for the space where we could perform. 
So we had this educational component along with the troupe itself starting out as our mission, and it is something we felt important to continue and track as an organization as we moved forward.  Even today we have educational initiatives through university and laboratories that I host in New York centered on improvisation where people come to study.   This is where I continue to do a lot of mentoring working with commissioned artists from different organizations.
So what would an educational component consist of?
It's practice. I call it in practice where there is a lot of dialogue.
For instance-I have this relationship with a school called the University of the Arts in Philadelphia that's been going on for about ten years. It started out with being brought in as a guest artist by the dean Donna Faye Burchfield who felt there was something significant with my pedagogies-where we developed this course called the Sophomore Performance and Coaching project. It's a teen taught course with one of my dancers centered on creative analysis, improvisation, along with professional development. This course is a consortium of ideas about what it means to be a professional.
Then there is the project I do in New York called Module. Its acronym is Movement Observed Unique Laboratory Experiments.  It happens twice a year. We just had one in January. It's seven days-and like a retreat. We block out a space for 38 hours-where students work with me for five hours a day-moving and experimenting. Then we do dialogues at night. The next one is scheduled for June 6-12th.
In the Module, we've hosted about 500 artists in 5 years.  It's a really intimate project where people have to apply. We've hosted not only traditional dancers but actors, educators already established in their 50s and people in holistic medicine.  It's a consortium of people who want to incorporate movement into their current practice within their discipline.
How does one qualify for the MODULE?
There is an application that includes a letter of intent with what they want to get out of the experience, along with a personal video. We're not looking for any particular genre, but most importantly we are looking for a creative spirit and hope for mental stamina in those coming into this space where we have movements and sound designed for this activity. 
We've expanded these to satellite versions having taking place both nationally(Austin and Pittsburgh) and internationally(Bulgaria) through global partnerships in the arts. This is something I am very passionate about.
Can you talk about your upcoming event with Danse Lumière in New York?
This is taking place on April 8th at the Martha Graham Studio Theater.  Danse Lumière presents a Conversation with Sidra Bell a Conversation on Women Choreographers.  This dialogue will be with the Artistic Director Kathryn Roszak who is producing and presenting me at this event.  
Kathryn connected with me through my work as the first Black female choreographer for New York City Ballet.  We will have an interactive dialogue with the audience and it will feature my artists performing excerpts from our current works.
This event will be leading to a fruitful summer where I will begin writing my book and developing more intimate and interactive ways of meeting the artists.