When you started in music, how did this begin for you?
Well, I've been doing music since I was a kid.  I was lucky to have a family that supported the arts.  My sister is a visual artist.  So we were born in an atmosphere where we could pursue what we loved.
At around the age of seven I got an acoustic guitar and the first thing I wanted to do was write songs.  So what I think, essentially in the end I'm a song writer.   But, you know-little by little things evolved to me playing drums and then there was a really important moment when I got a friend to let me borrow his accordion; it's the type of instrument we use in Colombia for traditional music.  Using this accordion connected me to the roots of music in our country-that was in my teens.  This experience helped create an entirely new environment for me. I began researching new types of rhythms traditionally from Colombia, where there are very unique rhythms divided by region.  Each region has their own different rhythms and instruments.  A lot of these traditional rhythms are coming from the countryside and there is a lot of beauty to it-in my way of seeing it.
So that's how it started to develop.  Then I went to Boston and studied at the Berklee College of Music-and there I got interested in jazz and big band.  So by the end when I was finishing school, I decided to combine the big band elements I learned there with the traditional rhythms I learned from Colombia.  Then I moved to New York.  Basically living there for about 10 years I formed a big band-with musicians from all over the world.  Although the music that we play has origins from Colombia, only about 2 of the 16 band members are from there. We have a band member from Oklahoma, we have another one from Mexico, there are few Argentinians, some folks from the midwest, and a one from Switzerland-it's that New York thing that happened and you end up working with people from different parts of the world.
So basically, I've been a musician for all of my life.  And that's been my main career.  
When did curating travel tours become part of what you do as an artist?
Just in the the last few years, I'd say the last two years-I decided to add this travel element.  Because and especially when I was studying in Boston-say I'd have a summer off and come back home to Colombia-I would always try to do more research there with traditional music.  Where could I go to learn more-off the road places and dirt roads to meet this old master-the only one left to play this instrument or rhythm and spend some time with him to share stories etc.  Those experiences really were very enriching for me.  And so I was always left with that idea this is something that can be shared with others.
For example, one time I did one of those trips and my folks came along with me.  They are not musicians and don't play any instruments or anything particular, they still have a very fun experience.  The trip led them to places they would not have otherwise experienced or visited, or interacted with folks they would not have met on a regular basis.  So that kind of gave me that spark to blend music and creating these environments where music is in an organic flowing way-to let you feel a really organic experience-one with people from different cultures.
So the last two years, this coincided with the government realizing how important music was to tourism.  I felt that everything was coming together and this was the right moment to do this.  And I decided last year to do a tour and I want to do this year again.  And yes, it's been a very interesting experience-creating this new network and opportunities.
I will be flying to Zacatecas, Mexico to do this conference on music and tourism.  One of the tourism conference board member's saw me do a performance concert in Brazil.  It was a presentation of my experiences-showing slides of difference things going on with music and tourism and also combining it with some performance showing what I could do as a musician and why music connects to travel.
That's who I am-still a musicians doing my concert tours but also have the travel tours in parallel to explore this experience travel with music.
What I find appealing about what you are offering-is the connecting to a community through music-ultimately you're going to know everybody to help make the experience enjoyable. 
And yes, that's what we do.  Especially in places that are a little more rural.  In some cases we are dealing with musicians with tremendous talent and history and may not even have a cell phone.  It's similar to what you see in the Buena Vista Social Club documentary.  That film brought to the world the value of musicians-even of older age-there was something magical about them.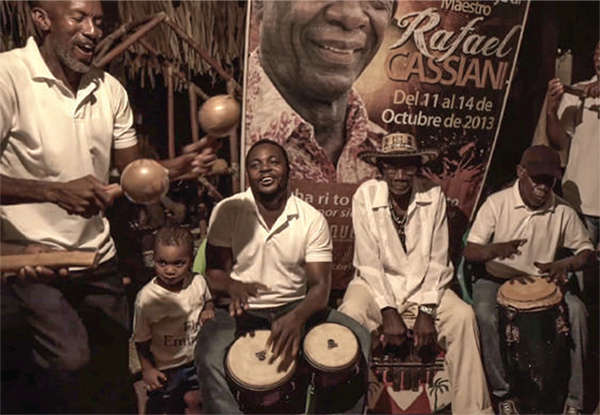 These type of experiences, in curating a tour it really has taken years of building relationships-of going there, meeting them, spending the night etc.  So we've narrowed it down for our clients, we'll go directly on a particular afternoon right there.  And if someone wanted to that on their own-they would not know where to start.
How does technology play in that experience?  What should participants expect to have access to vis-a-vis cell phones, GPS…etc?
I think for everyone the main thing is wanting access to the internet.  And there's parts, for example when traveling with cell phone, in one or two small cities you may have wi-fi access at the hotel; but on the road from place to place you won't have access to the internet.  Someone on the tour staff will have a cell phone with service from the provider and people can give that number to their relatives-if there's an emergency and someone needs to reach you they can call to that number-which will be available all the time.  But let's say you're on the bus traveling two or three hours from one place to the other, once you get there you'll have wi-fi.
And we are small groups, 10 to 15 people traveling-one bus.  There are a few free afternoons and evenings, and in places that offer just a few restaurants-you can choose and go wherever.  It's typically in small towns with everything in walking distance; there will be a main plaza with a handful of restaurants where you can pick and choose with a plan to be back at the bus say by 2-if there for lunch.  So the lack of internet access is not an issue.  
What we do also is use the app WhatsApp, like a mobile chat, and create a group there.  WhatsApp is good because everybody can communicate and meet using that on their phones.
But overall, because it is not a large group-communication is easy between those on tour.
How do you guys incorporate food, dance and other activities while on the music tour?
There's a side of it that is spontaneous, in that all of these types of music are essentially to dance to.  So it depends.  In the physicality of it, for example on the second day we travel outside of Cartagena and we do a walk in the wilderness looking and we're lead by a master flute maker and get to see where he gets the trees to make the instruments.  You're in nature and for example-get taught what types of trees/roots that are used for the drums.  So that in itself is an active excursion around the idea of music.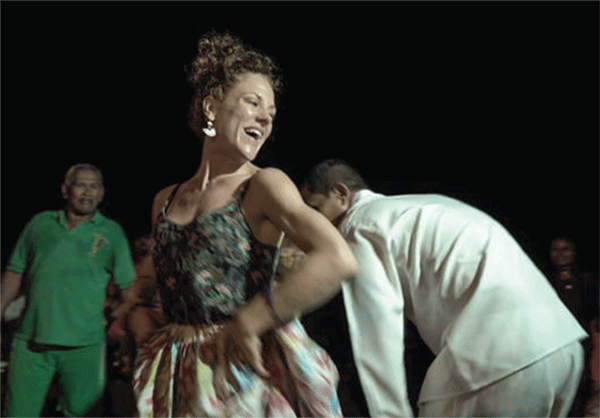 When we come back in place-we get to learn how a particular instrument is made-with group participation.  We get to see how melt the beeswax with the charcoal to make the top of the flute.  So it's very hands on.  But at the same time we are having lunch there at the musician's house, which are very humble yet generous in culture.
And for the dancing part, in every workshop there is a leader or musician that's known by the community and they show us some of the moves.  When you look at the video and some of the pictures you''ll see a part where they gave all the women traditional skirts with instructions on how to do the dance.  We'll try to combine couples into the middle of the circle to try the dances out.  And it's not just travelers together, it is also with the musicians-which is really really cool.
At one point we'll do a little drawing lesson, and you do not have to be a musician to express yourself and give it a try.   
So I think these artists are very cool.  Yet they are all different.  With some of them they are just playing, and you'll as them questions.  Others will ask you to join in the instruction and if someone doesn't feel comfortable that's fine.  And there's other cases were they will ask you to learn a particular step and the leader will show how to try it.  It all has to do with the senses and how you want to experience it.
There's beautiful imagery of travelers smelling the beeswax to make the flutes or feeling the skins used to make the drums or when there's a stand along the way that will be adorned with juices from the native fruits that you won't find elsewhere-that's all a part of the experience.
How many cities are part of the tour?
So we start in Cartagana, on the Caribbean Coast of Colombia.  On the second day we stop in two small towns, San Juan and San Jacinto and sleep in the third one.   Then we go on to Mompox and Palenque, then back to Cartagena-which is our hub.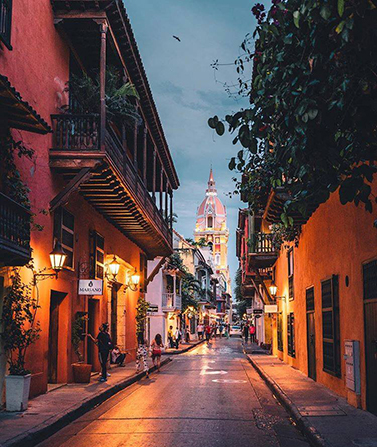 How do your groups form to be a part of the tour?
Couples traveling together seem to be very common-then individuals. We'll also to special request dates for groups who may want to go for example as adventure travelers. There's also been interest from student travel groups.
Sounds of Colombia is an amazing opportunity to experience an insider's view of the country, it's artists and tradition.  The next tour will be in August 2022.  Feel free to contact gregoriouribe@hotmail.com for more information.